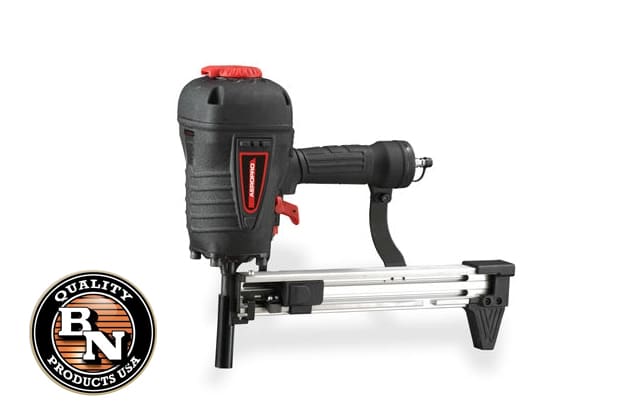 Today, there are many power nailers to choose from. Each nail gun you come across will perform the same task, but each one is also a little bit different. It can be difficult to choose a new palm nailer, even if you know what you need. Do you want an air finish nailer, a nailer that's easy to use or a nailer that focuses on speed? Are you constructing buildings or are you constructing wooden crates? Do the majority of your jobs require heavy-duty operations and if so, do you need a power nailer that's equally heavy-duty? After answering these questions and doing your research, one of the most important factors to consider is safety. As with any construction job, safety is and should be every contractor's number one focus. Safety should never be compromised, as when anything goes wrong, both the employee and the job are compromised. Below are some power nailer safety tips to remember after you have selected the right power nailer for your job:
Power Nailer Safety Tips
Nail gun injuries are more common than you may realize. According to the United States Occupational & Safety Hazard Administration, 2 out of 5 resident carpenter professionals experienced some type of nail gun injury in a 4-year period. Below are a few of the reasons why these types of injuries occur:
Contractors don't understand their nail gun's trigger mechanism
Contact trigger nails double fire
Nailer discharges accidentally if the safety contact is knocked while the trigger is squeezed
Nail ricochet
Nail penetrates through a material
Using the nailer in an awkward position
Using the power nailer for materials it's not intended to be used with
How to Prevent Power Nailer Injury
Preventing power nailer injury begins with training. Each contractor needs to understand how his nailer works and how to properly use its safety mechanism. What types of materials is the nailer supposed to be used with? Is the nailer in the right mode? Are all safety precautions being followed?
The first way to prevent a power nailer injury is to receive proper training of each power nailer. Understand how it's supposed to be used and in what positions it works best. Read the instructions in the manual, and make sure everyone knows how to load the nail gun, how to unload it, how to discharge nails, how to use the safety mechanism, how to hold lumber during work and how to operate attached air compressors.
Another one of the best ways to prevent a power nailer injury is to use the nailer in sequential mode, the safest mode available. Sequential mode helps reduce the risk of the power nailer accidentally discharging or double firing.
Limit the use of power nailers in awkward positions. In tight spaces or awkward positions where nails need to be inserted, it might be best to use a hammer. If that isn't productive, take care and be slow. Nail guns may slip during firing if the device cannot be held flush with the piece it is working on. Invest in a power nailer with teeth, so that it grabs onto the work piece and prevents the gun from slipping during firing. Only fire the nail gun when the safety is positioned correctly.
Put workplace safety precautions in place
There should always be safety precautions in the workplace, but this principle can never be underemphasized. Workplace safety procedures that are diligently followed can prevent a lot of injuries from occurring and keep the job moving steadily forward.