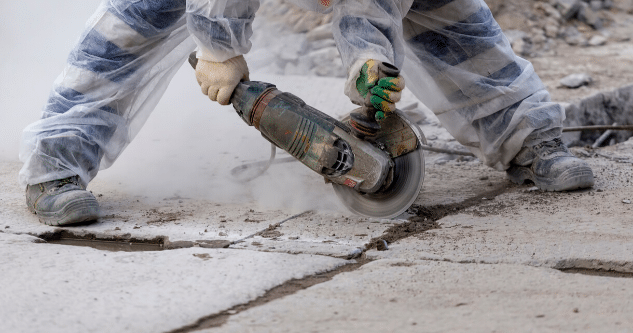 Most constructions sites, big or small, require large tools, especially where there is concrete cutting or drywall sanding. These projects often involve a lot of dust and hazards that need to be handled with caution. At BN Products-USA, LLC, we have the latest tools and equipment for cutting through any concrete material, but here are some of our most important do's and don'ts for a project of this magnitude.
Safety Guidelines for Cutting Through Concrete
If you find yourself cutting through concrete, it's probably for the intended purpose of putting in a new window in the basement, laying duct work, or installing a new staircase. No matter the reason, there are specific safety precautions that you should take.
Do: Wear protective gear.
As for any construction job, you are required you to wear the proper safety gear. This includes protective glasses, rubber boots, a mask or ventilator, and ear plugs. Operating a cement or concrete cutting machine can generate a lot of noise and dust, so protecting your eyes, ears, and mouth can help you avoid work-related health conditions in the future. 
Do: Take it slow.
Don't expect to be able to work quickly when using a concrete saw. This process can take hours, and you should be willing to take it slow. In order for you to get the best results, make several shallow passes to cut your way through, rather than making one deep cut on the first pass. Cutting too deep, too fast can damage your saw blade and cause your equipment to overheat.
Do: Ensure proper water flow.
Most saws are wet saws, meaning they require the use of flowing water to successfully cut through the concrete and mitigate the amount of dust that is released into the air. A wet saw is usually best, but in order for it to work properly, you need to have proper water flow and hookup. You should also never use a dry saw blade in a wet saw machine.
Don't: Use a damaged blade.
Before you begin cutting, ensure that no part of your blade is cracked or missing a tooth. Working with a damaged blade is a safety risk and can make it more difficult to cut through the concrete. Use a fresh, sharp blade if you suspect that your current one is damaged, and don't forget to put the blade guard down before you begin cutting.
Don't: Work in an area without ventilation.
Most concrete saws run on gasoline or diesel, which means you'll need to keep the work area well ventilated. The combination of dust and fumes from the machine can be toxic if you're not working out in the open. If your construction project has been roofed and framed, it's especially important that you wear a mask and use fans to circulate fresh air in and push the concrete dust out. For completely enclosed sites, open as many windows as possible and use the fans to keep the air flow steady.
Don't: Work without a safe lifting method.
Concrete cutters are heavy and require a specific lifting and lowering method to help protect your legs and lower back. Treat these machines as if they were heavy moving boxes and lift them using the power of your legs and a straight back. If needed, wear a back harness and brace to help keep you steady when you get ready to lift and cut, especially if you're cutting into the side of a wall.
Using these simple tips on your next concrete cutting job will help your project stay on track. Always use the proper tools and the right blades to get the job done quickly and efficiently.
If you're working in Wickenburg, AZ, and need cordless rebar cutters, concrete mixers and sanders, or any other power tool for your construction site, check out our inventory. BN Products-USA is proud to be distributor of some of the best tools on the market and we have a variety of repair centers around the United States. Give us a call today at (800) 992-3833.