by Ed Truxal, BN Products-USA™
---
Are the big tradeshows still big? Why we're all-in, and refreshed with optimism

BN Products-USA™ is wrapping a fast-paced winter tradeshow season this week at the massive, triennial CONEXPO CON/AGG 2023 show, widely known as the largest construction industry trade show in the western hemisphere. With over 100,000 attendees forecast, like many of the 1,800 exhibitors, we're eager to spark new business relationships, show great tools to industry contractors, and increase our growing network of construction supply distributors. We're primed to showcase new product lines and accessories – and it's always exciting – because what better platform is there, beyond tens of thousands of industry professionals at a single gathering?
We've heard the media quotes for nearly two years now – "Shows are back!"  That's encouraging, but are trade shows still the industry catalyst, driving new business and innovation in ways that we've always looked forward to?  Let's take a quick-look at what's being said about the start of 2023, starting with the industry shows where we've exhibited in recent months:
---
The Precast Show 2023: Bigger and Better in the Buckeye State
The sun shone down on The Precast Show 2023 – both literally and figuratively – as record-setting crowds enjoyed three days in Columbus, Ohio.
A 70-degree afternoon welcomed the Grand Opening on Thursday, Feb. 23, with nearly 5,300 registered attendees taking to the 120,000-square-foot show floor filled with 378 exhibiting companies.
Attendees visited booths to see the latest technology and build relationships with vendors who help fuel the precast concrete industry. Large machinery stood alongside cornhole tournaments, T-shirt screening, a hands-on display of virtual reality crane operations and other novel ideas that drew long lines, helped attract people into displays and captured attention.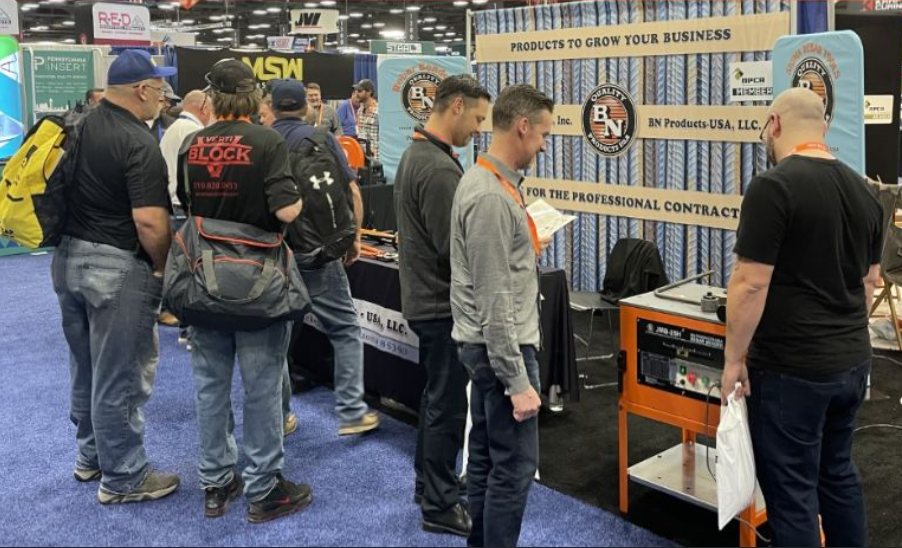 (Read more: The Precast Show 2023: Bigger and Better in the Buckeye State – NPCA)
---
World of Concrete 2023
ISSUU, a world leader in digital publishing and marketing content, had this to say the 2023 World of Concrete Show:
"With over 48,000 registered professionals, the 49th World of Concrete marked a banner year for the show. After a tough couple of years, I think it's safe to say that the event is back on track. Jackie James, vice president of WOC says the results exceeded their expectations."
Issuu.com published a great wrap-up article on this year's event, with an extensive photo gallery that you can access here: World of Concrete 2023 Wrap-Up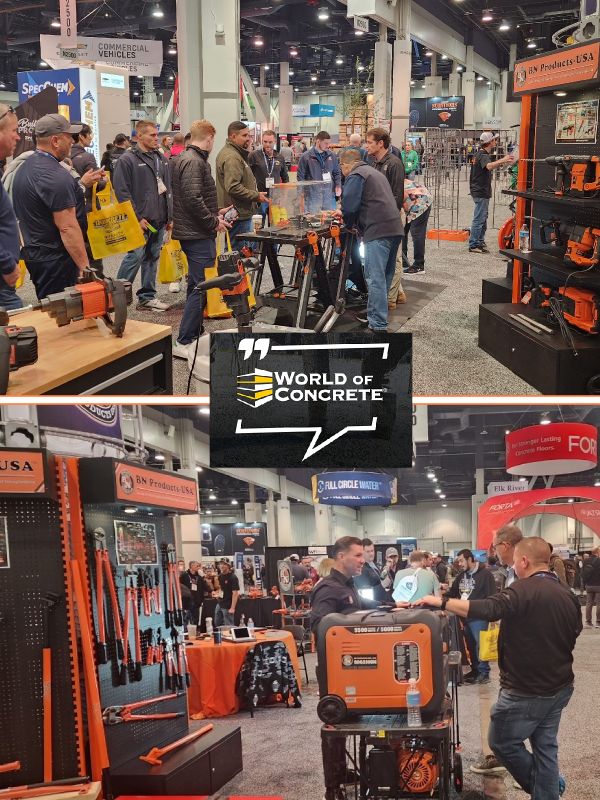 BN Products-USA™ makes World of Concrete our largest annual roadshow event. Our investment in World of Concrete includes a 1,500+ square foot exhibit and over 6 tons of equipment to gain hands-on experience with cutting and bending rebar, mixing stations, professional rebar tying equipment, and much more! The show also features the largest gathering of industry education professionals, and also features corporate management solutions such as software and the latest in data management solutions tailored to concrete construction.
---
Equipment Rental Optimism: High Attendance at The ARA Show an indicator of increasing demand
The ARA Show 2023 brought the equipment and event rental industry back together in Orlando and based from the energy on the show floor, it was clear rental is moving full speed ahead. Attendee and exhibitor total attendance numbers reached 10,744. There was a total of 5,358 attendees with 2,090 rental businesses represented.
"Overall attendance exceeded our initial expectations, and the momentum seemed to build from Saturday education programs to the trade show floor opening," said Christine Hammes, vice president of association services/events. "It was exciting to see the trade show floor buzzing with activity. The feedback from attendees has been positive with many reporting an increase in buying activity, and optimism for the year ahead." (source: ararental.org)
---
What's Next?
As we engage with industry professionals this week at CONEXPO CON/AGG 2023, we realize that shows are energetic and invigorating to the industry – but our follow-up is critical to reaching our goals of partnership with end-users and enhancing our distribution network. If you did not have the opportunity to travel to any of larger shows this year – you can still stay up-to-date with our newest construction tools and products by downloading our New Tools preview catalog for 2023, or sign up for our newsletter and special offers for construction supply distributors HERE.
Also, stay informed of our roadshow schedule, which includes smaller trade show events, and product training and demonstration dates scheduled throughout the USA! As always, visit BNProducts.com regularly for product and servicing information for all genuine BN Products-USA™ tools.
---