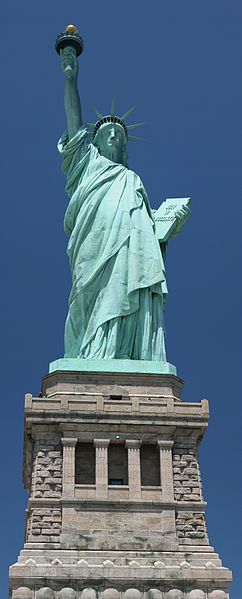 New York City's Statue of Liberty is one of the country's most famous and most recognizable landmarks. Lady Liberty, as the statue is fondly known, is a quintessential American icon that sits on Liberty Island and overlooks New York Harbor and the New York City skyline. What some don't know about the robed female statue representing the Roman goddess of freedom, Libertas, is that the torch bearing and tablet holding giant was a gift from the French people to the United States dedicated in 1886.
The statue, which has inscribed on it July 4, 1776, the date of the American Declaration of Independence, and features broken chains lying at her feet, was sculpted by Frederic Bartholdi, and is said to have been inspired by a French law professor and politician. The first parts of the statue, which was built in France, were the head and arms. One of the designers and builders who worked on the statue was Alexandre-Gustave Eiffel, who opted to use a metal framework for the statue to support the copper skin and make it more structurally sound.
The statue was built in France, then disassembled and transported to America, where it was reassembled in New York. The statue was dedicated on October 28, 1886, the ceremony being presided over by President Grover Cleveland. Today, the statue is one of the most popular destinations for tourists from around the world. Though visitation has been closed or restricted over the last decade, in 2009, the Statue of Liberty had 3.2 million visitors.
Fun Statue Facts:
Height of Copper Statue:     151 ft 1 in
Height with Pedestal:    305 ft 1 in
Index Finger:            8 ft 1 in
Head from Ear to Ear:    10 ft 0 in (thick)
Length of Nose:         4 ft 6 in
Right Arm Length:        42 ft 0 in
Width of Mouth:        3 ft 0 in