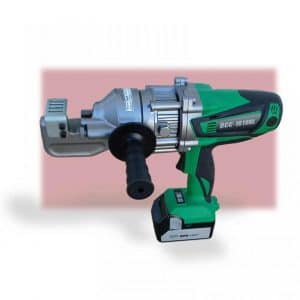 Rebar is a dangerous business if you do not have the right tools for the job. With the right rebar cutter, any professional can make a quick and easy job of cutting rebar without sacrificing safety. The DCC-1618HL Cordless Rebar Cutter is perfect for any job. This tool makes cutting rebar on site and on demand easier than ever.
DCC-1618H: Cordless Rebar Cutter Overview
This tool can cut rebar up to 5/8" in diameter grade 60 and has a self contained electric/hydraulic unit that can help you cut other items as well. Not only does this tool cut rebar, it also cuts chain, rods, and bolts making this a handy multi-tool. The DCC-1618HL can also be used in rescue operations to extricate individuals from vehicles and other confined spaces.
Rebar Cutter Used in Rescues
The DCC-1618HL can be used in close proximity to a trapped victim because it does not put off sparks. The cutting head is versatile and rotates quickly up to a total of 345 degrees. Keep in mind that it can be used vertically, horizontally, or in other difficult to reach positions. This tool also comes with added safety relief valves so that you can retract the piston and cutting guard for easy disengagement making it perfect for just about any rescue operation.
DCC-1618HL Power
This cordless unit runs off of 18 volt lithium ion batteries and does come with a 30-60 minute charger for fast charging on the job. The side handle can be removed and the item does come with a standard tool kit so that you can work on your cutter. It also comes with a plastic carrying case for easy travel and storage. The battery can support 75 cuts on full charge at about 5 seconds per cut so you can easily get an entire days use out of one charge if you are doing simple cuts.
Worth its Light Weight
The total tool weight is about 16 lbs so it is not incredibly heavy. The DCC-1618HL can be used without causing major fatigue to the user. This tool is compact as far as rebar cutters go so you can use it on any job site. Cordless cutters of any type have the potential to be less than useful but the DCC-1618HL is a tried and tested tool that is going to cut every time you set out to use it. You can be sure that this tool is going to be dependable and easy to use for many years.
Compact, Portable, Cordless
For anyone looking for a compact, portable, cordless rebar cutter, this is a great one. This item comes from a trusted brand so you can be sure you are getting a top quality rebar cutter. The DCC-1618HL also comes at a great price. This durable tool is going to meet all your needs – even if you are cutting more than rebar.