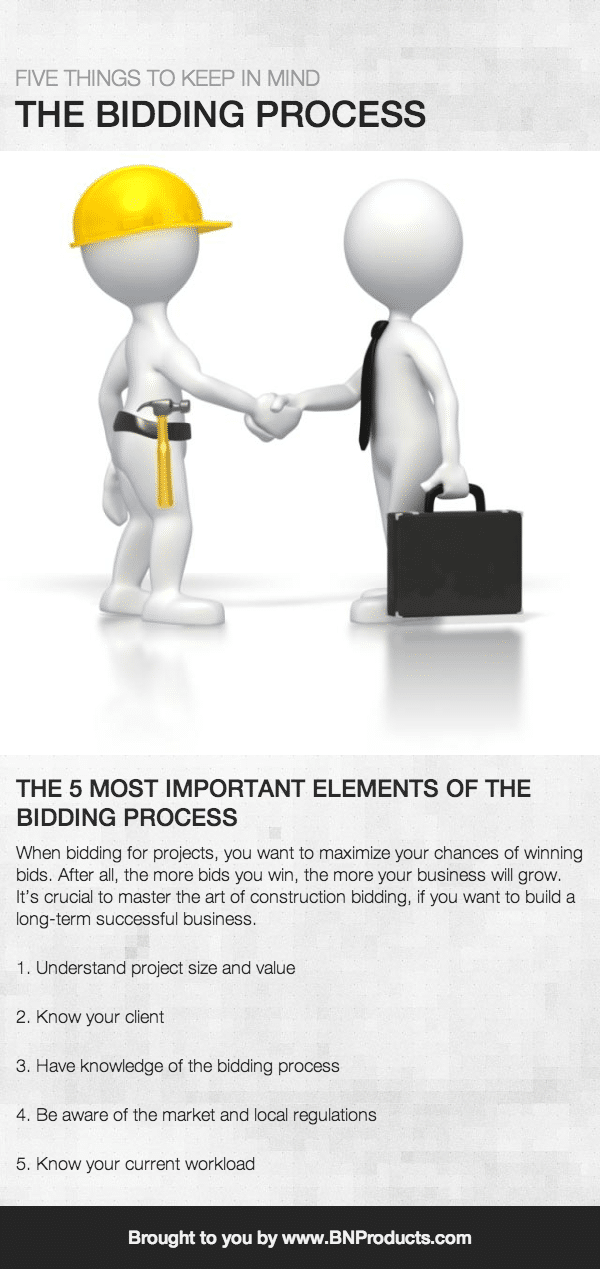 5 Things to Keep in Mind During the Bidding Process
When you're bidding for projects you'll obviously want to maximize your chances of winning bids. After all, the more bids you win the more your business will grow. It's crucial to master the art of construction bidding, if you want to build a long-term successful business.
In this article, we are going to cover the five most important elements of the bidding process that you will want to ensure you keep in mind. Bids are extremely important. After all, how else would the cost of projects be estimated?
1. Understand project size and value
Utilizing cost management software can go a long way towards helping you generate better cost estimates. By using software, you'll be able to compile information from a variety of sources, which will help you generate a more accurate bid.
Aside from a price estimate, you will need to include a scope of work. By using construction management software you will be able to give a closer estimate and timeline to the amount of work the project is going to require.
Overall, using the right software will give you the most accurate representation and price of the project, which will help you submit a winning bid.
2. Know your client
You will also need to know your client. After all, they are the ones who are going to be reading your proposal. Any added information you have on your client will be an asset. It can also be valuable to understand the past projects they've accepted, as this will give you a better idea of what they're most interested in approving.
3. Have knowledge of the bidding process
Once you've been selected to place a bid, there are still a few things you'll want to keep in mind. In fact, there are a few reasons you may not want to bid in the first place. For instance, you'll want to ensure you do a site visit and take note of any existing issues that may make the project more difficult than imagined. If possible, you may even want to meet with the clients, so you can get an impression of what it's going to be like working with them.
By taking time to get a deep understanding of the project, you will make sure to avoid any red flags that could turn up.
4. Be aware of the market and local regulations
Before you submit your bid, you will want to take your time to research any local regulation and legal issues that might arise during this project. Especially, if you're bidding on a project that is outside of your state or county. The last thing you want to do is place a bid that ends up bringing up a legal issue. If this occurs, there is a good chance the client will throw out your bid right away.
5. Know your current workload
When you're bidding a project you will want to make sure you actually have the time to take on the project of that size and scope. Even if the project is extremely lucrative you simply may not have the resources available to pull off that project in a timely manner, if accepted.
Before accepting any bids make sure you have a thorough understanding of your current workload, and project completion times. Once again, having the right project management tools can help you ensure your projects are getting completed in an efficient manner.
As you know, bidding can be a complex process, but by keeping the above in mind, you'll be able to increase your chances of winning a bid. For more project management tips and tricks, check out our Project Management and Bidding Guides.