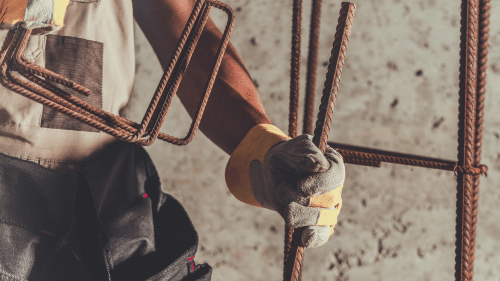 Managing construction projects is no simple task, especially with so many moving parts. You've got the architects, the electricians, the inspectors, the project managers, and many more. The list of specialties and skills is long, but every project manager knows that each is essential to a project's success.
One of these essential roles is the rebar reinforcement rod placer. The name might suggest that a rod placer is a tool, but it is, in fact, a person responsible for the installation of concrete reinforcing steel and post-tension cables. While the team at BN Products-USA, LLC, specializes in providing rebar cutters and bending tools for job-site corrections, we find it necessary to explain what a rod placer does and why this role is essential.
How to Become a Rod Placer
Becoming a rebar reinforcement rod placer isn't difficult, and many get their start right after high school. Most of the training for the job can be done in one of the following two phases:
On the Job
Those who choose to go this route can expect to be thrown directly on to the site of a project and perform plenty of nonskilled labor. This labor might include carrying a lot of rebar to where it's needed, working with shovels and jackhammers to prepare the site for other steel reinforcement concrete workers. During on the job training, you'll learn how to prepare footing and foundations as you work right alongside experts in the field. The goal is that, over time, you'll slowly learn the skills required to perform rod placement properly.
Formal Apprenticeship Programs
For those that still desire a formal education before entering the workforce, apprenticeship programs are the best route. According to the U.S. Bureau of Labor Statistics, many receive sponsorships through unions or contractor associations and must complete at least 144 hours of related technical instruction. Additionally, 2,000 hours of paid on-the-job training are required to complete an apprenticeship.
Requirements
While a high school diploma, training or additional schooling is just part of becoming a rebar reinforcement rod placer, the other half of the equation is physical fitness. High stamina and dexterity are essential to working efficiently and safely with steel and rebar. You should be able to handle long days and carry heavy loads of rebar over a construction site. This occupation also requires you to stand and bend all day long.
Furthermore, on any given day, a rod placer will be asked to do the following:
Read blueprints, sketches, and other instructions
Signal crane operators
Use shears, rod-bending machines, torches, hand tools, or welding equipment
Align structural and reinforcing iron
Connect iron and steel with bolts, wires, or welds
Install metal decking
Job Outlook
Over the next eight years, the employment of rod placers and other ironworkers is projected to jump 11%. Steelworkers are essential to a growing economy, and further construction is expected to require this level of expertise. The constant need for rehabilitation or new road construction is also on the rise across the United States, requiring more workers, including rebar reinforcement rod placers.
Equip Your Team
While rebar reinforcement rod placers are essential, mistakes can happen, or a project can take a turn that requires immediate rebar repairs or fixing. When that happens, make sure you're prepared with your rebar benders and cutters from BN Products-USA, LLC. We proudly supply contractors across the U.S. Contact us today at (928) 684-2813 to learn more about us and our products!