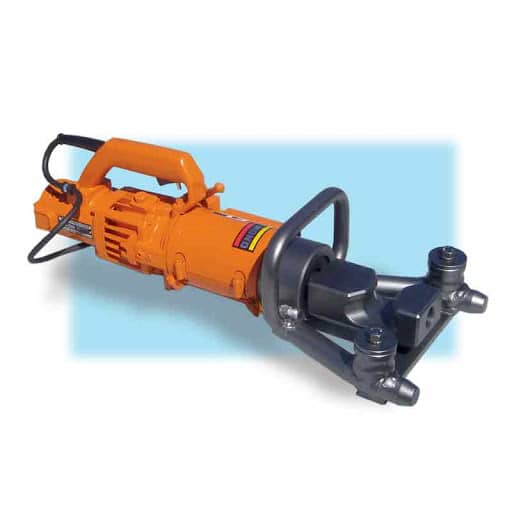 Every hour counts when you're managing a construction site, which means you need reliable tools that can help you get the job done as efficiently as possible. The DBR-25WH Portable Rebar Bender is a clean and efficient portable rebar bender and straightener that can save your team countless man-hours when trying to install new rebar or correct a problem before pouring concrete. Designed by BN Products-USA, LLC, this tool is a must-have addition to any construction site.
1. Bending Capabilities
With an interchangeable bending hook, your team will be able to bend rebar ranging in diameter from #4 to #8 grade 60. With the flip of a switch, you can either bend rebar all the way to a 90 degree or straighten it back out with the help of 8.5 or 11 tons of pressure. There's no need to remove rebar from its placement since this machine can be transported to the specific work area. You can complete a bend in less than four seconds, and the head of this machine rotates 360 degrees to guarantee you'll be able to use it anywhere.
2. Portable and Lightweight
Weighing just over 65 pounds, the DBR-25WH can be taken anywhere. The carrying case makes it even easier to tote around to different job sites, or pack it up in the truck when you're done. When you order one for your contractors, you'll also get hydraulic oil, a tool kit for simple repairs, and two additional bending dies.
3. Wide range of utilization
This rebar bender and straightener can be used on any construction site where you need an accurate bending machine. Easy to use and operate, the DBR-25WH makes the perfect addition for any concrete construction site, including:
New building construction
Bridge and road repairs
Commercial building foundations
Pool construction
Foundation installations and repairs
Why Trust BN-Products and the DBR-25WH?
Dedicated to providing the construction wholesale market with the best products available, BN Products-USA is also passionate about providing excellent customer service to their distributors around the country. With a passion for innovation, you can trust each tool with the BN Product-USA name. If you're in the Industrial Park of Wickenburg, AZ, you can visit our corporate headquarters and facility. To find a distributor near you, contact us today at (800) 992-3833.