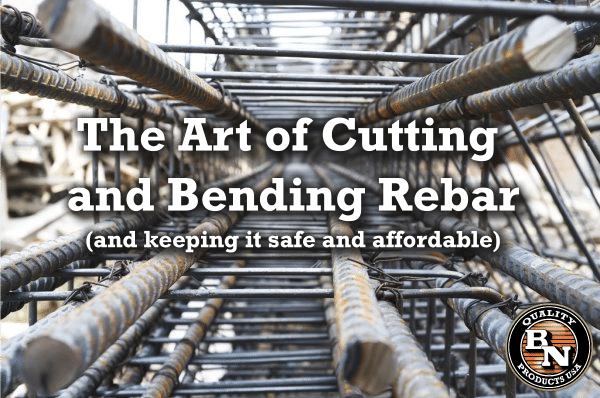 The Art of Cutting and Bending Rebar
Contractor and Engineers have discovered and employed numerous methods when it comes to cutting and bending rebar on construction job sites. Reinforced steel bars are made to be durable, as they are used to provide a solid structure and support system for concrete buildings. Because of the essential role that rebar plays in safe and quality concrete construction, the methods and equipment used to construct reinforcement should not be taken lightly, either. Therefore – while some creative methods can be useful, a contractor must be careful to implement safe processes that do not compromise the quality and safety of any engineered construction project.
"Clever" Ways to Bend Rebar
Rebar is manufactured in lengthy steel rods, which are sized to correspond to requirements necessary for the kind of concrete construction project that the reinforcing steel bar is intended for. Size (thickness and diameter) impacts the process of cutting and bending before rebar framework can be installed. Contractors modify and implement rebar reinforcing structures in several different ways.
Specialized tools do exist for these projects, and most of the the time they are the best option. Creativity is an often valuable quality – but make sure that it's used wisely! Here are some common methods, and a common-sense review of each.
– Bolt Cutters
Don't underestimate the power of a bolt cutter; of course, you can use these devices to remove padlocks and chains, but they are also effective at snapping rebar. The cutting force alone is enough to chop through smaller diameters of reinforced steel. This is a handy tool to have around when you need to quickly trim a piece of rebar down to size or if you have a number of sticks to tend to. The caveat is the cleanliness of the cut. If a job requires a clean cut – you are almost always better off to use a manual or power tool designed for cutting rebar with a clean cut that does not leave dangerous edges or that could accidentally bend the rebar end.
– Circular Saws
Circular saws are the go-to machine for many professionals. People like them because saw blades can make short work of a rebar slicing job as long as they are made to cut through metal. The best option for a circular saw is to use one designed for reinforcing steel, such as the Cutting Edge™ portable saw, which is designed for cutting flush ends when rebar tails are sticking out of your block wall construction.
This type of saw generally is cause for caution, as most create a LOT of sparks when used to cut rebar. Another benefit of the BN Products USA™ Cutting Edge series of circular saws is that they are designed specifically for cutting rebar. This particular line of saws uses a lower cutting RPM (2,000 rpm vs. 8,000-10,000 rpm for grinders and similar tools). Also implemented is the use of a carbide-tip blade that brings the most "cutting edge" advances in material science to cut rebar efficiently – with the least amount of friction and heat possible – translating to maximum safety… and a substantial reduction in sparking.
After the initial investment of the tool, the calculated cost of blade wear is less than $0.07 per cut. This tool is a great option, especially when one considers that the desire to find "creative" means to cut rebar is driven by the (perceived) high cost of using specialized tools.
– Cut it by Hand?
Cutting rebar with a manual saw should be a last resort, but some will say that it is still a "creative way to finish a job." You may be advised to secure the material properly in a vice and use a blade that won't easily dull (Yes, this method is particularly damaging to saw blades). For unplaced rebar, a low-cost option such as a manual rebar cutter or bending tool is almost always your best option if you are not using a portable power-bender or production machine.
– Use a Vice, Torch, and a Pipe?
One contributor suggested that a rebar bending job can be completed by securing a bar in a vice, and adding heat, and using a torch to make the steel malleable. Then use a pipe to bend it.
"Torch it?" On this issue, we'll borrow advice from the common DIY guide, WikiHow:
Do not heat rebar in order to bend. The issue of whether heating rebar can help individuals to bend it is under a significant amount of debate. Some experts and experienced steelworkers maintain that heating rebar is appropriate, and can help individuals to bend it effectively. Others point out dangers and consequences of heating the steel, saying that this is not a good general practice for changing the shape of a piece of rebar. At the end of the day, follow this simple guideline: if it is non-weldable rebar, then don't heat it up at all.
The safest work environment is created when one has access to the right tools, such as portable or stationary rebar tools. Browse our selection today or check out our complete guide to working with rebar.
Related articles:
What are the Different Types of Rebar? And Does it Matter?
Types of Construction Joints in Concrete