MBC-16B1 #5 (16mm) Manual Bender/Cutter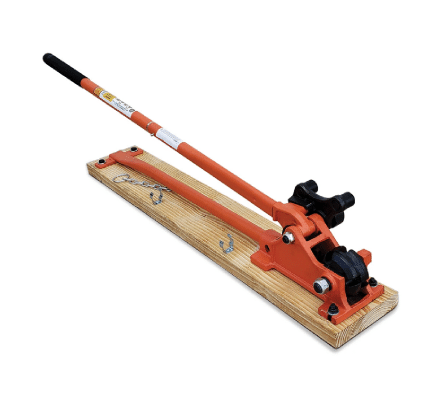 VIDEO: MBC-16B1 Features & Use
MBC-16B1 2-Part Handle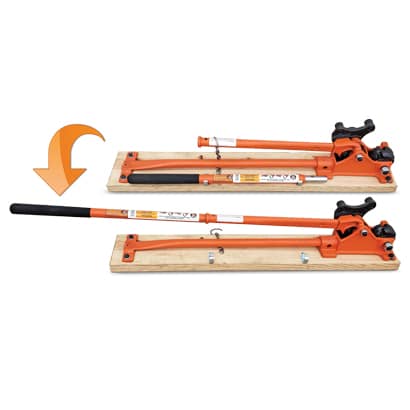 MBC-16B1 In Action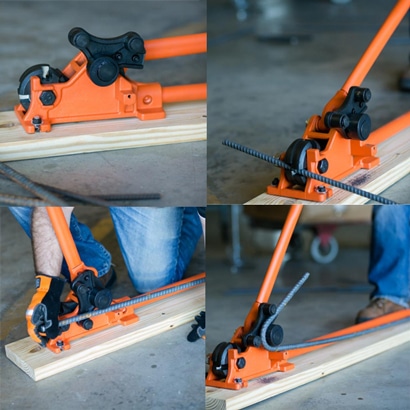 PRODUCT SUMMARY
One of the most popular tools for manually cutting and bending #3 (10mm), #4 (13mm), and #5 (16mm) rebar in the field is our next-gen MBC-16B1 manual bender/cutter!
This tool comes already mounted on a wood board and features a 2-part reinforced handle, giving the user greater leverage and allowing for secure tool storage in job boxes.
The original MBC-16B was a great tool for a long time - we've improved the product for easy storage and security, and strengthened the hardware to provide more power and leverage for the end-user!
See our MBC-16B1 Features & Use video for an in-depth look at the next-gen version of this workhorse cutter for concrete contractors!
PRODUCT LINKS
ONLINE REVIEWS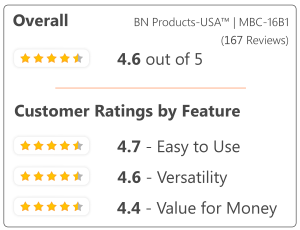 | | |
| --- | --- |
| Cutting Capacity | #5 (5/8") (16 mm) rebar grade 60 (420 MPa) |
| Bending Capacity | #5 (5/8") (16 mm) rebar grade 60 (420 MPa) |
| Bending Capability | 0 - 180° |
| Replacement Jaw Set | #MBC-16RJS |
| Shipping Weight | 57 lbs. (26 kg) with wood board |
| Overall Dimensions | 60.5" L x 7.5" W x 10" H |
| Warranty | 6 months (includes parts and labor) |
"MBC-16B1" -

BN Products-USA™
"Pretty solid tool" - Jacob 9/12/2023
★★★★☆
"Works well for the occasion big job. I built my own pole build and cut up a bunch of rebar for the footers. Definitely takes some muscle, but did hundreds of cuts on both #5 and #4 grade 60 rebar. It bends much easier than it cuts (it really is more of a break than a cut). If I did this professionally, I'd definitely buy a quality electric cutter/bender. For the occasional large DIY job this is great." -

Verified Purchase
"Works Great" - David 8/7/2023
★★★★★
"Does it's job well not much more to say." -

Verified Purchase
"A great tool!" - mercman 6/24/2023
★★★★★
"I'm building an earth sheltered home in the Rocky Mountains SW of Denver. The build is a 2 story steel reinforced concrete dome with several bundles of #4 schedule 60 rebar. This tool is amazing for cutting and bending." -

Verified Purchase
Related Products