Tools For The Professional Contractor
PORTABLE ON-SITE
REBAR CUTTERS
…

Since our first tool was introduced back in 1982,

BN Products-USA

has been the primary suppler of the most innovative portable rebar cutters available through construction material distributors here in the United States, Canada and Latin America. We started with the

DC-20WH

(pictured above) and added a total of 7 additional electric/hydraulic tools that either make money, save money or add value to every contractor that uses them.

For a look at our complete line of innovative rebar cutters: CLICK HERE

COMBINATION REBAR CUTTER/BENDERS
…

At the request of several distributors and end-users alike we have developed a line of combination tool packages that both cut and bend rebar. To date we offer 5 different packages that are based on our award winning designs. They are easy to take out on the job site and perform a variety of tasks to solve problems that save time and money completing a build.

For more information on these innovative tools: CLICK HERE

BNCE-20
THE CUTTING EDGE SAW
…

Here is a tool that was voted the

most innovative product

at the World of Concrete Exposition – largest annual construction convention in the United States. Looking for a flush cutting rebar tool for those tails sticking out of your block wall construction? This is your tool and much more.

Want to see it in action? CLICK HERE

BNMPC-135
MINI METAL SAW
…

Sometimes finding the right tool for the right job is not always easy. Do you wish you had a mini circular power saw that would cut through metal strut or corrugated metal panels as well as standard 2×4′s? A tool that was really cost effective and could pay for itself on the very first job. Your search is over with our BNMPC-35.

Take the time and look at the specifications of this little dynamo: CLICK HERE

SINGLE AND DOUBLE PADDLE
POWER MIXERS
…

It seemed like a good idea to hook paddle attachment on to your favorite power drill to mix that short batch of material. Next thing you know you burned up a perfectly good power drill. We offer four designs specifically designed to mix what you need and yes, you can use the single power mixer as a really good power drill! Take a look at the specification and different paddles we have to offer:

CLICK HERE

…..

.

PORTABLE ON-SITE
REBAR BENDERS
…

Following the success of our portable rebar cutters, we began work on adding a complete line of portable rebar benders available through major construction supply distributors. Today we have a family of 7 benders all designed to work well out on the job-site. From our largest

DBD-32X

that can handle #9 1-1/8″ grade 60 rebar down to our

DBD-16X

designed for 5/8″ #5 grade 60 rebar. Most of these tools are electro/mechanical, easy to use and tested for durability.

For more information on our complete line of portable rebar benders: CLICK HERE

THE BN MANUAL REBAR CUTTER/BENDER
…

Some competitive models can't really cut 5/8″ grade 60 rebar . . . some make you supply your own wooden baseboard . . . some really can't complete an 80° bend with the correct radius . . . and some have shorter straight handles. The MBC-16B is the tool everyone else wishes they made.

For a better look: CLICK HERE

BNT-64
REBAR TYING TOOL
…

Tying individual sticks of rebar together so they don't move around when you have your mix poured is probably one of my least favorite tasks. The BNT-64 is an portable electric rebar tying machine that is convertible from the standard wall-work pistol grip to a rifle grip for flat-work. Save your back. And, talk about saving time and energy. Put the fun back is bustin' rebar!

For additional information: CLICK HERE

BNBC-BOLT CUTTERS THREE CUTTING EDGES ARE

BETTER THAN ONE




…

The last time you purchased a bolt cutter, you used it for awhile and then nicked the edge and it ended up just taking up space in your tool crib. Take a look at our new innovative design with a replaceable blade that has three cutting surfaces and tell us this isn't a better way to go! It comes in three sizes to suit your needs and all we ask is that you

take a closer look: CLICK HERE

SMALL BATCH MIXER STAND
…

Here is a really good mixer platform that can be used with five gallon buckets or a standard wheel barrow. Using the articulated spring boom arm you can reach all areas in the wheel barrow to make sure your mixture is fully incorporated. The stand is fully portable and ready to take out on your job site. For more information:

CLICK HERE
BN Products - USA, LLC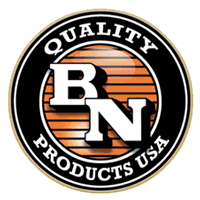 BN Products-USA, LLC., headquartered in Wickenburg, Arizona, is a principle supplier of Portable Rebar Benders, Portable Rebar Cutters, Battery Powered Rebar Tiers and other related equipment sold through leading Construction Supply Distributors throughout the USA, Canada and Latin America.

Our parent company, Benner-Nawman, Inc., was established in 1925 by Gus Benner and Rollie Nawman as a sheet metal fabricator located in the San Francisco Bay Area. During the early years, the company earned a triple-A rating as a supplier to the U.S. Government. They were incorporated in the State of California in 1946 and continued to expand their base of customers to include companies such as IBM, Western Electric, Campbell Soup, and Cutter Laboratories just to name a few.

In 1948, the Pacific Telephone Company had their corporate headquarters in San Francisco. They called Rollie Nawman and asked him to design and produce a telephone booth made of aluminum and glass to replace the wooden phone booths that they had in service at the time. The major drawback was the fact that they had to be painted every year.

…..

With Pacific Telephone's adoption of the very first design the company began making thousands of telephone booths and enclosures used by every major Telephone Company here in the United States and in 45 other countries; many of those enclosures are still in use today.

In 1969, Benner-Nawman moved their California fabrication facility to Arizona. We set-up manufacturing and assembly operations in the town of Wickenburg located 60 miles outside of Phoenix. By 2001 the company moved all of their holdings and distribution facilities to Arizona. As our public telephone line dwindled with the advent of cellular phones, We had already expanded into other major product lines that included specialty hand tools for the telecom/electrical industry, low-voltage pre-wire service boxes for housing telephone protectors and cable TV connections and portable rebar cutters, benders and related tools for the construction industry.

Since 1925, our corporate outlook remains the same, providing "Quality Products Engineered with Intelligence and Imagination". Our products can be found in major electrical wholesale, construction wholesale and telecommunication wholesale distributors world wide.