What Makes the BNT-40X the Best Rebar Tying Machine on the Market?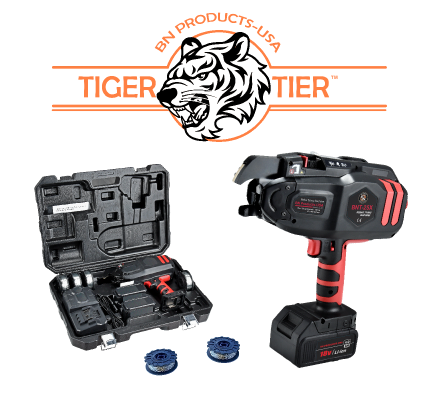 As a concrete and steel professional, you depend on your tools to help you perform your job with precision and efficiency. Every tool you add to your arsenal is an investment into your business success and sustainability.
That is why professionals choose BN Products over any other brand of rebar tying machine. BN products offer unmatched durability, high performance, and precise rebar tying. Below we take a look at why the BNT-40X is the industry's most trusted rebar tying machine on the market. If you have any further questions about this amazing product, contact BN products today!
Lightweight and Compact Design
Just because a rebar tying machine has to be sturdy enough to handle extreme environments, doesn't mean that it has to be heavy and cumbersome. Weighing in at just 5.8 pounds, the BNT-40X is compact, easy to carry, and easy to use. Because of its compact size, you can get into tight spots and work more efficiently.
But don't let its size fool you. The BNT-40X offer plenty of power and precision. It is well-balanced and designed to tie rebar as fast as you can pull the trigger. Plus, it can tie up to two #6 (20 mm) rebars at the same time. To give you more leverage, BN also added a glove-friendly grip to the tying machine for optimal performance. You perform a simple one-hand operation without wearing out.
Extended Life Battery Power
One of the most common challenges you face is minimizing disruptions on the job site. However, maintaining power can be a challenge. Cords often get in the way. Likewise, cordless devices rarely seem to last as long as they need to. BN solves this dilemma by providing a long life battery that will give you over 5,000 ties on a single charge.
If that is not enough, then we also include an extra battery that you can charge while your current battery is in use. Both batteries offer over 10,000 ties in a single charge. With this much power, you can use the BNT-40X rebar tying machine continuously with no interruptions and no need for cable power. The BNT-40X features a high-performance 18V lithium-ion battery.
Zinc-Plated Wire Prevents Rust and Corrosion
Our wires contain zinc-plated coating which can significantly reduce the corrosion rate on the wire. The zinc offers a protective barrier which blocks moisture and eliminates the corrosion process. Zinc's corrosion rate is up to 100 times less than that of other types of metal.
For this reason, we have added zinc coating to the BNT-40x wire to prevent rust and corrosion. The coating drastically reduces oxidation, which is what leads to metal rust and corrosion. The moisture has zero contact with the inner metal. As a bonus, our wire is made right here in the U.S.!
5 Tension Adjustment Settings
While on the job site you need to be able to make quick changes in your tools to adjust to any situation that comes up. It may be frustrating to change tools when they don't offer enough features or settings.
That is why BN added five settings to the BNT-40X. This way you are not limited in what your rebar tying machine can do. You have the flexibility to adjust to your environmental changes quickly without hindering your performance. Plus, the five tension adjustments settings allow you to find the setting for the wire and the application. You will always have the power you need when you need it.
Purchase Your Rebar Tying Machine from BN Products
Regardless of what type of rebar tying machine you need, BN Products has the right model for you. We offer industry-leading, rebar tying machines such as the BNT-40X that can handle any work environment.
To find out more about our products, visit a BN Products distributor near you. You can also call us at 800-992-3833, or message us on our contact page.