By Ed Truxal, BN Products-USA™
Can you really cut the cord today on heavy-duty construction tools?
---
Remember the first cordless drill that you – or perhaps your parents – had?  It was large, heavy, and the battery certainly would not have lasted as long as the new one you might buy today at any local hardware store.
Erica Schueller, an editorial director at VehicleServicePros.com says, "Cordless power tools have come a long way since the days of nickel cadmium (NiCd) battery packs. While those batteries may still be used for some DIY home applications, any cordless tool found in a professional shop will likely operate with a lithium-ion battery." 1
The development of the Li-Ion battery in recent years has not only increased battery life, but increased power output, and drastically decreased charge time to as little as 30-40 minutes in some applications.
These developments have also allowed tool suppliers to introduce cordless power tool products that might never have been imagined as recently as twenty years ago. For instance – the popular DC-20WH hydraulic rebar cutting tool from BN Products-USA™ will generate as much as 15 tons of pressure to shear a #6 (20 mm) Grade 60 rebar length, and considerably more for larger rebar-cutting tools. Could a cordless cutter generate that kind of power… sourced from a rechargeable battery?
BN Products-USA™ introduced the DCC-1618HL and DCC-2018HL cordless rebar cutters to the U.S. market in the past decade. It was not long before advancements in battery technology led to the next generation of cordless rebar cutters, featuring a 36V Li-Ion battery from Metabo's MultiVolt battery platform. But again… even with a 1440-Watt output… how do they perform?
Our newest cordless rebar cutters come in two sizes – the DCC-1636BHL and the DCC-2036BHL, made for cutting #5 (16 mm) and #6 (20 mm) rebar, respectively. After nearly five years in the field – these tools have established themselves as a reliable shear for cutting rebar, chain, steel rods, and numerous other applications – without the limiting tether to a portable generator or the local power grid.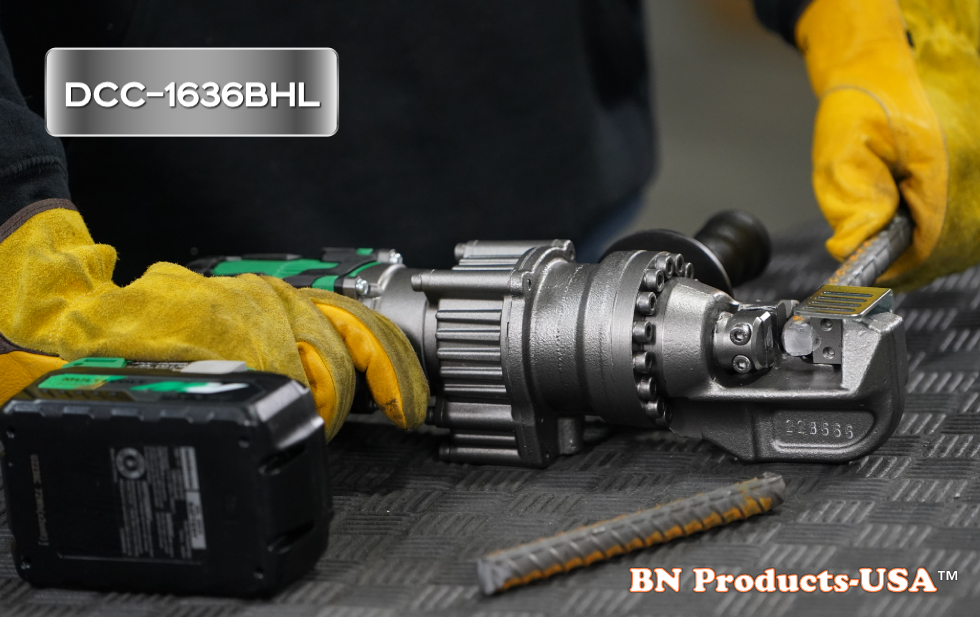 The DCC-1636BHL shears a #5 bar in as little as 2.4 seconds, and the DCC-2036BHL is made for cutting through larger, ¾" bars in just over 5 seconds. Both models ship with the long-lasting MultiVolt battery and a 60-minute fast battery charger – which can make battery-related downtime, simply stated, a relic of the past.
While it's natural to be skeptical of just how good the most modern cordless tools are – especially for high-power jobs such as cutting steel rebar – we remain excited to offer the same advantages of our popular electric-hydraulic cutters on a cordless platform. Both cordless models feature a 345° rotating cutting head, and a removable side handle to allow the tool to work effectively from almost any angle, even in hard-to-reach spaces. These tools also include a safety relief valve for retracting the hydraulic piston, and a cutting guard as standard features.
Have battery-operated power tools advanced to where new tools are reliably being offered to pro contractors? Our answer is a simple and resounding, "Yes!"
If you're a contractor that needs to cut rebar, but also has need to cut the (power) cable on larger or remote job sites – the BN Products-USA™ cordless rebar cutter options may offer the reliable, field-proven tools you're looking for!
See our Cordless Rebar Cutters and our full lineup of Electric Rebar Shears – Click HERE!
1https://www.vehicleservicepros.com/distribution/tool-distributor/article/20970300/the-evolution-of-cordless-tool-technology