Looking at the future of the Cutting Edge Saw™ by BN Products-USA™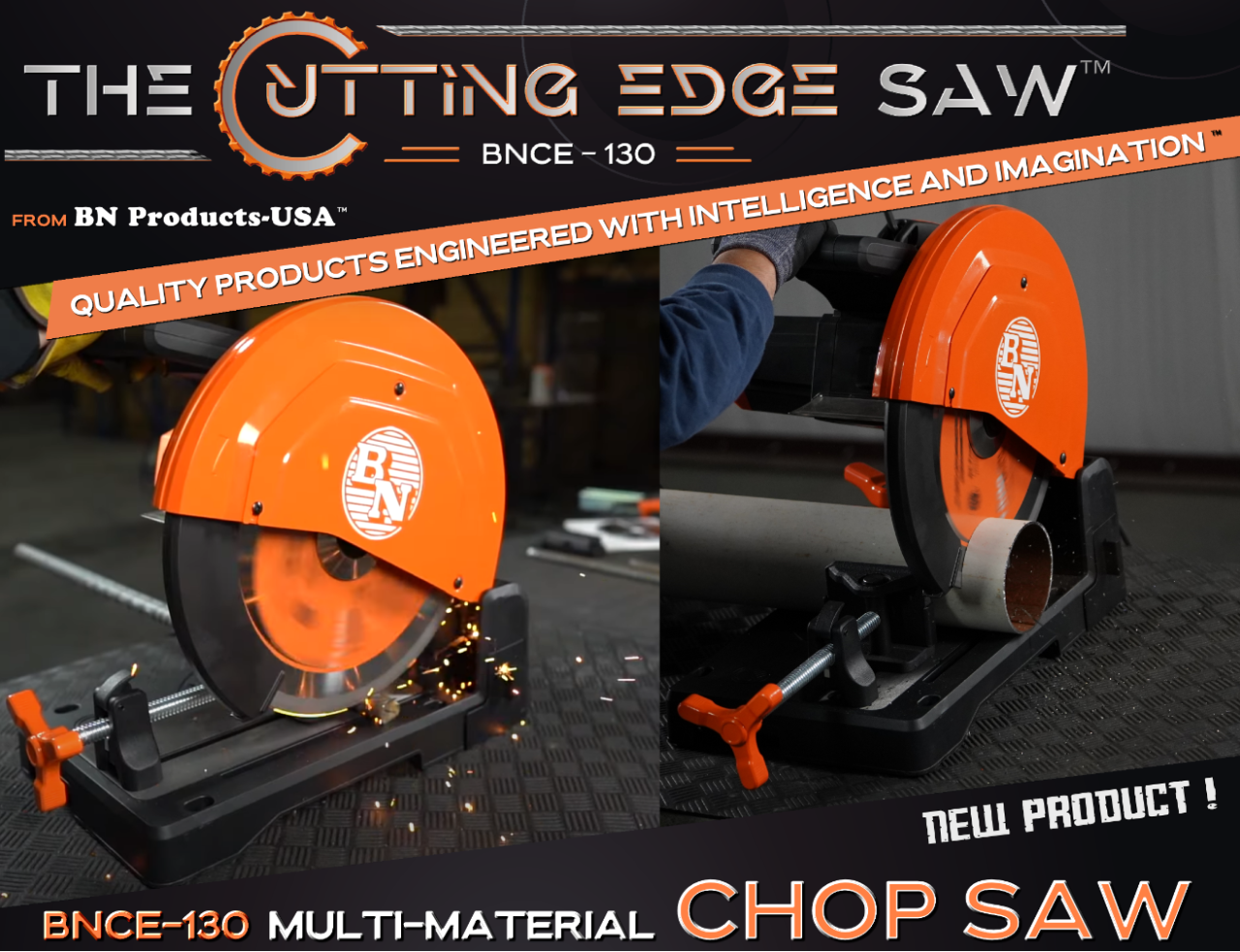 ---
By Ed Truxal, BN Products-USA™­
Cold-cutting metal saws are certainly nothing new in the power tools market or the construction industry. For decades, slower-RPM saws of varied shapes and sizes have been used to cut pipe, conduit, threaded rod, and rebar with precision, and for numerous applications in construction.
The essential idea is that "cold sawing" uses a circular blade to remove material, while transferring the generated heat to the chips that are created by the saw blade. Many cold-saw blades use a tungsten-carbide tipped (TCT) cutting surface, which provides extreme hardness to resist wear, abrasion, and heat at low-RPM.
The end result is a cut surface – such as the end of a rebar rod or all-thread – that is immediately cool to the touch, with a precise, burr-free cut – so clean that when cutting threaded rod with a cold saw, a properly-sized nut should be able to spin right on to the threads of the cut-end of the rod! This is possible because the "chipping" action at low speed avoids the use of extreme heat, which is dangerous to the touch, and can create deformities on the edge of the cut-surface.
BN Products-USA™ took the benefits of cold-sawing to a new level by developing a lightweight and highly portable handheld saw – both corded and battery-powered – with a 3-position handle that enables the user to make flush cuts with rebar and other materials in the tightest of places. One of the best features of the Cutting Edge Saw™ line is the tool's overall safety profile – as over 90% of the blade is unexposed, covered by a blade shroud designed to protect workers and their surroundings – without inhibiting the ability to maneuver in tight places or cut bars flush off of flat surfaces. These innovations nominated the Cutting Edge Saw™ multiple times for Most Innovative Product awards at the annual World of Concrete trade show in Las Vegas.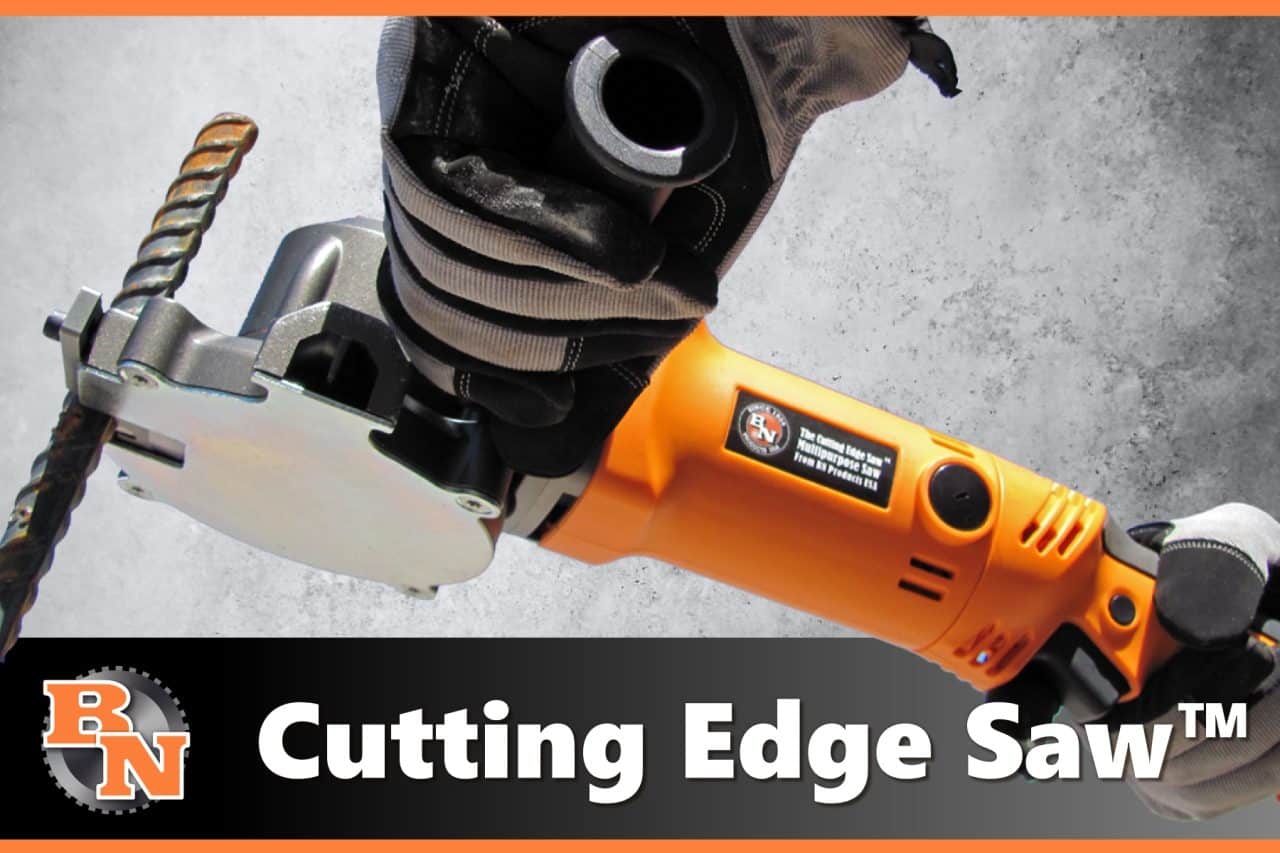 Workers can cut Grade 60 rebar, among other materials, up to a #6 (20mm) bar with the BNCE-20 (or BNCE-20-24V cordless model), or #8 bar (or 1-1/8″ all-thread rod) with the BNCE-30, and it's BNCE-30-24V battery-powered counterpart. The Cutting Edge™ product line has been highly successful, selling thousands of these safe and convenient saws.
So what's next?
BN Products-USA™ is excited to be introducing two new models to the Cutting Edge™ lineup later next year! Due to demand for an even larger, portable metal saw, we are testing designs for our newer, larger BNCE-45 model for cutting metal bars up to a diameter of 1-3/4."
We are also very excited to debut, later this year, the first stationary chop saw from the Cutting Edge™ line! The BNCE-130 Cutting Edge Saw™ brings the same quality cutting and safety features – spark elimination, precise cold cutting, and protected cutting surface – to a 14″ TCT blade for larger applications (a cutting capacity of 4″ for steel) or cutting multiple rods bundled together. The high-quality blades we are testing have successfully made over 2000 cuts with a single blade!
Moreover, we are eager to offer our Distributor network even more competitively priced, quality solutions, so that we can continue to outfit contractors end-to-end with a full lineup of great equipment for concrete and rebar construction. Continue to check BNProducts.com regularly for new product information, or follow BN Products-USA™ on LinkedIn or Facebook.